Client Testimonials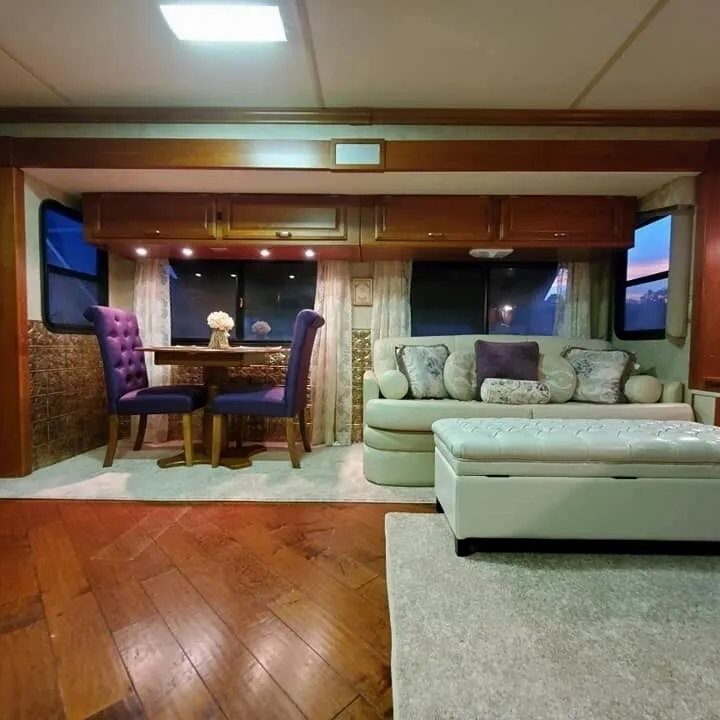 Hi Dan
The chairs arrived last Saturday
Thank you for the great packaging.
They look beautiful, we are very happy.
Best Regards
U Oberschelp
Danny, Thank you and your wife for taking care of our recent order for the dining room & folding dining room chairs. They arrived In Pipe Creek Texas yesterday and we appreciate your working around the dates we'd be away from home. The chairs are very nice and are a nice complement to our Phaeton motorhome. Thanks again!
C Pollock
THANK YOU
My trestle table arrived as you said and in excellent condition. Totally meets or exceeds my expectations.
Appreciate your great work!
S Hoffman
Tracy,
We love our table and chairs, they look like they came with our trailer. Beautiful workmanship, solid construction and well-padded seats all combine to make them just what we envisioned. Courteous and speedy service to boot!
Thanks again,
Nikki And Rex W.
Good Morning Tracy!
I am near retirement age, and this will be the first time that I have ever written back to the supplier concerning comments or reviews.
WOW – you guys are on the ball. This had to have been the most perfectly organized order/receipt that I have ever seen! Our table was received in pristine condition – not a single scratch or blemish anywhere. Of course, the way you guys packed it in the wooden crates with the foam protection, you could have dropped it from an airplane, and it would have been fine. The level of care and detail that was exercised in our order was completely off the charts. Even down to supplying me with two different sizes of screws for mounting it to my camper floor (which I didn't expect you to supply!). In addition, I was blown away that you sent me an extra pedestal mount as an option! (Free of charge, I might add).
I own two businesses myself, and I just have never seen another business operate in the same manner of unparalleled quality and customer service. I wish that you would consider expanding your product offerings – no question, you would be successful.
Tracy – you guys are top-notch!! We are so pleased with the appearance and quality of our new dining table!
Thank you!!
Greg
We just received our new table.
We couldn't be more pleased, thanks again.
Great job by all of you guys
Mike & Nancy K
Sent from my iPhone
Dan,
We rec'd our table and chairs, and We couldn't be happier
The quality is OUTSTANDING!!!!!
We have already installed, and it looks GREAT!!!
We are so excited to get the project completed but still waiting on the
Sofa to come from CA.
Please thank your team and especially your Mom – she did an AWESOME job on the Uph (upholstery) on the chairs!!
Thanks for GREAT and OUTSTANDING customer service!!!!
Ronea G.
In today's world, it is hard to find quality workmanship. We found it with RV Furniture. As the owner of a slightly used Tiffin Allegro Phaeton, we were disappointed with the flimsy dinette chairs that were factory standard products. After some research on the Internet, I found RV Furniture and worked through them with materials for replacement chairs for our vehicle. I was somewhat hesitant to order from a manufacturer in Kansas and have the chairs delivered to Vancouver, Washington. However, the entire process was a "10". The representative from RV Furniture was very knowledgeable. We needed chairs that would fit the vehicle but be very sturdy because we work from the vehicle when we are on trips that last about two weeks. At their expense, RV Furniture sent us samples of the supplies that would be used to make the chairs. The choices were more than adequate for colour matching, etc. At minimal extra cost, we were offered to have the chairs built very sturdily, and they were. The two chairs were packaged properly for shipping and arrived in perfect condition. Nothing but positive reports from us. If we need products that can be produced by RV Furniture in the future, we most certainly will be repeat customers.
Gregg
Subject:
a thank you message
Message:
could not let another day go by without thanking you for the beautiful work you did on my table and also the packing job. The ups driver also had a comment on it was the best packing job he had ever seen...We love the table, the color, and the workmanship that went into building it, and it has regained my faith that things that are made in the USA are still outstanding. That same table, less quality, would have cost me$1200 dollars here in Calif. Again, thanks, and keep up the good work
Jeffrey C.
Custom vent:
"Yes, it was perfect. In fact, better than the original one!
Thanks so much!
V"
Classic RV Table
Message:
Hi! Just a quick note to let you know that after following Denny's advice and following the changes in the drawing he faxed to me, the table works beautifully! We are very impressed!
Sincerely J. W. Rudd Idaho
The table arrived today, the directions were helpful, and it's beautiful! The slide is going to work perfectly for my husband's situation.
Thank you for all your help.
Sandy
We got the chairs yesterday, and they are beautiful! Everything I thought they'd be and more! Thanks so much for your fast service we appreciate it.
If you get to Jackson Hole, look us up! We live one block from the square in the center of town!
We come home in May!
L. Lamb
WE WOULD LIKE TO THANK YOU FOR MAKING THE FOLLOWING ITEMS FOR HELPING US RE-CONFIGURE OUR 2009 EXCEL FIFTH WHEEL.
DRAWER FACES FOR OUR BEDROOM CABINET. SO WE COULD MAKE THE TOP DRAWER LARGER
DRAWER FACE FOR THE CLOCK WHICH WE HUNG IN THE KITCHEN
CONTEMPORARY STANDARD END TABLE AND MODIFYING IT WITH A SMALL DRAWER
CLASSIC MIN-UP COFFEE TABLE AND MAKING IT A LARGER SIZE FOR US
TV BOTTOM SPACER BOARD TO HIDE THE OPENING IN THE TV CABINET
NOT BAD FOR A TRAILER THAT IS 6 YEARS OLD
YOU HAVE A VERY GOOD REMEMBRANCE OF WHAT EXCEL USED IN OUR FIFTH WHEEL AND USING THE RIGHT STAIN.
THEY MATCH OUR WOOD STAIN VERY NICELY
ALL ITEMS WERE VERY GOOD QUALITY.
ALL MADE TO THE SIZES THAT WE ASK FOR
HOPEFULLY, WE CAN STOP BY AND TALK ABOUT NEW CHAIRS SOMETIME IN THE FUTURE.
THANKS
Lloyd and Ida L.
Dan: Just letting you know how happy we are with our new dinette. You did a great job cutting it down to our needs, and we love it. We also appreciate that you are a great listener and very kind. Regards the Heintze's?
L Logan
Hello Dan,
Received the table and chairs Tuesday afternoon. Received with no damage, and Michael is thrilled with the set. Thank you so much, and would highly recommend your company.
Darrell E for Michael S.
Hello Dan,
Received the table and chairs Tuesday afternoon. Received with no damage, and Michael is delighted with the set. Thank you so much, and would highly recommend your company.
Darrell E. for Michael S.
"We recently purchased a new table in Oak from your website and wanted to take a moment to thank you for the fantastic job you all did! The table is more than we could have expected, and the craftsmanship is superb! We were amazed at how well it was packaged for shipment, the fast turn around, and the overall quality of the product...hands down! This table has replaced the cheap, wobbly junk table the RV came with, and your product looks great in the camper. It is sturdy, solid, and is just incredible.
Take a look at the picture attached to the table in place...looks great.
Thanks again, and when we need new, well-crafted quality furniture, we will order from you again. I will be sure to also recommend you to any of the other 150 seasonal campers in our park in beautiful Hillsborough, NH.
All The Best,"
Jim and Danielle F
"Hello
Just wanted to drop a quick note that I received the table today... WOW!!!!!!!!!!!!!!!!!!!!!!!!!
I did woodworking many many many, well, let's say a long time ago, and this table is VERY well crafted, designed, and built; it is very nice to see a product where care was taken to make sure that it was done perfectly right the first time. I am truly quite impressed and have no doubt, my wife and I will enjoy this table for many years and miles to come.
Please express my gratitude to the workers, from the designers to the well skills craftsmen... thank you all!!!! I also have shared a link to your website page for the tables on my Facebook page. I hope you do not mind."
Jaret B
"My wife and I were at Excel's last week, and you exchanged our table top for one that had a centered base rather than the offset base. You guys are wonderful and we appreciate your business model. You can'tgo wrong treating customers the way you do. I plan to spread the word about you among all my RV buddies and I prayit brings you much business."
Regards Don& Melissa
"Received our table and chairs yesterday wanted to let you and everyone at your company know how pleased we are with your furniture."
Thank you, Bill
"Dan and All, We want to thank you all for the outstanding service which you provide to Betty and I. We love the table which you custom-made for us – it is exactly what we have been looking for again. Many Thanks for the wonderful service."
Homer and Betty
"Thank you for our new table. The workmanship is top-notch, and the time you took to pack and label the parts made putting it into our fifth wheel a breeze! The color match is perfect… considering what I did was hold my IPAD up to a cabinet to compare the colors you show on your website. We are very happy with our experience with your company, especially the personal contact early in the process. You called long distance to clarify something with us. Amazing generosity and professionalism. We will be recommending you to everyone we know. I only wish we could return the box to you tore-use! It's so gorgeous."
Thanks again! Jane
"Just wanted you to know that the headboard arrived today as promised. First, we were amazed at how well it was packaged for shipment. When we opened the package, we were astounded at the quality and craftsmanship that went into the piece. The cherry wood perfectly matched the wood in our motor home, and it was a perfect fit. Thanks so much. We will enjoy this for many years to come. "
Ron & Carole
"Hi, just thought we could let you know we received and just has installed the wall hugger table we ordered. This table was exactly what we wanted for our motor home – the color match was perfect, and the size was also perfect. Thank you for the excellent workmanship and speed of the delivery. "
Don & Kathy
"We got our beautiful dinette table today, and we love it!!! Thanks so much...The color is perfect…. Thanks for your help…"
Angela.
"Great production, great customer service. This is my second coffee table since somebody liked the first one that they made me buy another. Our dining table and chairs are beautiful too. Our dining table and chairs are beautiful too. A great place to find what you need in an RV. "
John
"I just received my folding coffee table. I am so pleased, and it fits just nicely in our motorhome. You folks did a great job! Thank you again. "
Nancy
"Our furniture arrived yesterday afternoon. Our expectations have not only been met, but they have been exceeded. Your ensemble adds the quality and beauty we wanted to show in our coach. Before & after pics to follow. I would also like you to quote a small corner bookshelf. I will try to do a sketch and scan it to you in the next few days. Again, thanks for your quality &greatservice. Bob &Judy" Got my table it looks so good wanted to keep it in my house. And it was packed so nice I think it cost more to pack it then make it well just to say thank you and nice job Ernie and Joyce P.S. my wife loves it"
" I received the table I ordered on Friday just as this e-mail promised. I am the manager for all the shipping/receiving, mail service, and warehousing service for the University of Northern Colorado. I have been in this type of business for better than 25 years, so I have seen some good shipping practices and some bad. When I received this package Friday, I was extremely impressed with the care that was taken in the packaging of this product. It had very minimal chance that the product would be damaged in shipment, and I would have to deal with the shipping company to get reimbursed, let alone the delay of the item I was so greatly anticipation. As manager of this type of business, I would not hesitate one moment to hire the person(s) in charge of this practice. We receive high-end furniture from a number of different manufacturers here, and the packaging generally is so relaxed that we have repairs required to better than half of the pieces we receive. When I opened the crate and seen the workmanship of the table, I was impressed even further. The simplicity and workmanship are way beyond expectation. I have had a very positive experience working with RV Furniture and would not hesitate recommending you to anyone. Thanks for the great customer service and please share this with all the staff, they deserve it. Jim"
Hello Dan. I wanted to let you know we got the kitchen table & it looks great, we have installed it in the camper today we wanted to say many thanks."
"I took delivery Tuesday on the dining table and chairs that you shipped. The crates were quite beat-up, but the furniture inside was perfect. I am really pleased with the quality and finish of the furniture, and thank you for including the Velcro straps. Thanks for the great communication and product! Patrick" "I just wanted to let you all know that I am very happy with the table and the chairs I bought the other day. They match well. I also appreciate the neighborly attention you gave us. I have been working the city in Texas, and it felt like a home to come back and be treated so well. "
Dallas
"We wanted to let you know how pleased we are with the RV table we ordered from you at RV Furniture. The workmanship and quality of our table has exceeded our expectations. It is beautifully finished, is solid, and looks great! This is a terrific addition to our RV. In addition, you have provided excellent customer service. The table was packed well to assure that it would not be damaged in shipping and was delivered as promised in a very short amount of time. You can be assured we will tell anyone in need of your product of our very pleasant experience with your company Dan, you did everything you promised when filling our order, and I personally thank you."
Laurlie& Paul
Hi Dan, I received my oak wall hugger table today. It matches our cabinets perfectly. Thank you for your prompt shipment and delivery. The packaging was excellent. I would definitely recommend you guys to all my RV friends. Thanks again for your excellent service."
Linda
"Hi Dan, Just want to take the time to thank you for the beautiful table. It looks perfect in the coach. Looks like an exact match and the chairs match the sofa perfect. We will do business with you again in the future. "
Thanks, Kelly
"received end table when and as promised- appreciate so much you effort when packing-not a scratch- workmanship "exemplary"!!! "
Thanks, Mike
"Received the table and chairs. Oak wall hugger, in good condition and installed it. Table and chairs were as described. It looks good in my motor home. I would recommend your products to anyone. "
Thanks, Lloyd
"chairs and the table look great and the craftsmanship is superior, thanks for a very nice dinning room set. "
Art
"We received the tabletop and chairs yesterday, and are ABSOLUTELY delighted. Your craftsmanship is superb, the stain color is perfect, and everything is solidly built. We will gladly recommend your firm to our RVing Friends! Great service and products! "
Terry
"The table has arrived and is awesome. We are really impressed with the quality of both the fold up chairs and the table. Thank you for your speedy response to our problem. We will be happy to recommend you both for the quality of your work and the service you provided. "
Veronica
Table was received this afternoon and already in place for diner tonight! We love it and are absolutely pleased with the quality of the workmanship. Surprised too at the short-time from time of order to delivery. Less than a week is pretty impressive. The table is a perfect fit in our(motor) home. And my wife has already figured out it will be perfect place for her sewing projects… feel free to use me as a reference if desired. For sure, I will be telling all I cross paths with about your products. "
Warm regards, Tom
"We received the chairs today, and they match our table perfectly. The wonderful quality is exactly what we expected from your company, and I have recommended to my friends who may need RV Furniture in the future to check out your products. Thanks again,"
Ron.
Have A Review? We would Love Your Feedback…